For your business to be successful on the internet you have to juggle a lot of things; from marketing, hosting, social networks, advertising, content creation, etc. All of this can get out of control very quickly and can become stressful. Today you want to explore why choosing a managed WordPress hosting service is the best option, that unlike shared hosts or small VPS, this can be one of the most important decisions you can make when it comes to from your website.
Your business deserves the best and a managed WordPress host will give you that competitive advantage. 💪
What is a Managed Hosting?
First of all, what exactly do we mean when we mention managed WordPress hosting? And what makes it different from shared hosting or personal hosting (DIY) ? To explain it as well as possible, let's first put the online population, in three different hosting scenarios, the ones that one normally sees:
1. WordPress Shared Hosting
The first group is typically people who are just starting out, the type of person who chooses low-cost shared WordPress hosting. These include sites like GoDaddy , Bluehost , Hostgator , SiteGround , Media Temple , OVH , GreenGeeks , etc. Usually these people are:
Building your first website.
They have a limited budget and they need things to be as cheap as possible.
Someone who does not understand the differences between different types of hosting, and therefore is simply making a decision based on price (tip: this is not good!).
Shared WordPress hosting plans generally range from $ 3 to $ 25 per month. There is nothing wrong with starting like this, but there are a few things people should keep in mind:
No matter how you do the math, after expenses, $ 3 per month does not generate any income for the hosting company. Especially when he attributes support to that. A support ticket and they are already bankrupt. The way a shared host makes a lot of its money is in upsells and hidden fees . These sales include things like migrations , domain registrations, renewal fees, SSL certificates (even for WooCommerce sites ), etc.
To earn money, most hosts offer what they call their "unlimited resources" plan. Everyone has probably seen this. Well, there is no such thing in the real world as unlimited resources . What the hosts will do is throttle the clients using a lot of the resources. This, in turn, ends when those angry customers leave, making room for more customers who don't use many resources. In the end, it has a vicious cycle in which the hosting company pushes cheap plans, obtaining customers who they expect not to use many resources and that additional services. It's about volume.
Also, because the plan is so cheap, it generally forces the host to saturate its servers to consolidate resources . So even if you don't know it, your website may be on the same server as 500 other people. Any performance issues that arise with other sites may, in turn, affect your site.
Shared WordPress Hosting
If you combine all of the above and what do you get? You get slow performance and poor support. Shared hosts have to spread their teams too thin, which results in long ticket times and poor customer service.
Be sure to check out our in-depth article from our CBO on shocking truths about how cheap WordPress hosting really works. Some of that might surprise you.
2. WordPress DIY VPS Hosting
The second group of people are typically bootstrap startups and people with a little more experience in WordPress development. These are the group of DIY (Do it Yourself or Do it yourself). These people are typically trying to save money, but are usually concerned about performance and know how important this is to the success of a business. Common configurations could include using Digital Ocean, Linode, or Vultr VPS, along with a tool like ServerPilot for easier management.

Try a free demoA small DigitalOcean VPS usually costs about $ 5 a month and the most popular ServerPilot plan usually starts at $ 10 a month. So depending on your configuration, you could be seeing expenses of about $ 5 or $ 15 a month. The DIY approach can definitely help you cut costs, but this also means that you will have to take responsibility for anything that doesn't work, and optimizing your server to perform well.
The DIY approach can be great, but it can also go awry if you're not careful. Don't choose this route just because you want to try and experiment! Your time is worth a lot of money and you should use it to grow your business . Take advantage of the Kinsta team's over a decade of experience fixing WordPress problems, day by day.
3. Managed WordPress Hosting
The third group of people are typically small to medium businesses, high traffic blogs, and companies looking for a more specialized WordPress hosting company . This group realizes that a managed WordPress hosting is a good investment because it saves them a lot of labor, time, and usually offers better performance since it is made especially for the CMS.
Plans for managed hosting usually range from $ 25 to $ 150 per month, or depending on the size and needs of your site. You may already be familiar with some of the more popular WordPress managed hosts, or you may already be using one like Kinsta , WP Engine , Flywheel , Pressable , Media Temple , Pressidium, and Pagely .
Large companies like jQuery, Plesk, Dyn, and NGINX use WordPress to host their website. Check out our article on the 130 WordPress sites that are dominating the web for some other examples.
Why Should You Choose Managed WordPress Hosting?
Now, just because we separate people into three different groups does not mean that it is necessarily the best way to do it. You should do your own research and make the best decision for your business. Perhaps you can start with the DIY method and move to managed hosting as you grow.
Or you could invest in managed hosting, to begin with, and focus all your efforts on growing your business. There is no right or wrong way, but we will share with you the 9 reasons why you could benefit from managed WordPress hosting.
You will have a better support
Optimized for High Performance
Strategically Located Data Centers for Global Reach
Automatic Backups (Never Lose Your Data)
One Click Test Environments
Intuitive for Developers (SSH, Git, WP-CLI)
They Take Safety Seriously
Made with Scalability in Mind
Premium DNS (Fast and Reliable Search Times)
1. You Will Have Better Support
The number one reason you should choose managed hosting is its superior support system . Typically WordPress managed hosting providers only work with the WordPress platform. This means that they do not mess with Drupal, Magento, or any other type of platform or software. Typically support teams focus on an area in which they will become experts, even if they weren't before!
The support team at Kinsta are all WordPress Developers and Linux Engineers, they contribute to WordPress core and other open source projects, and they use WordPress on a day-to-day basis. As a result, the experience and knowledge of our support department is one of the best. Nothing is worse than walking into a chat session and feeling like you know more than the person you are chatting with. This will never happen at Kinsta!
When Kinsta started, we knew the industry was fragmented in terms of how they handled WordPress support . That is why our team is structured in a completely different way. We do not have several separate levels. The member of the support team that will help you will be fully qualified to fix any type of problem you have, until resolution is reached. There will be no bounces between various support representatives, as we believe this is a waste of time. Everyone will have the opportunity to interact with the same support team members that use Fortune 500 companies. 👏
"I have tried various types of hosts – LiquidWeb , SoftLayer, WP Engine , Wep Synthesis, Rackspace , and so on. Of all these, Kinsta has been the best in terms of support, speed, and price. I am very impressed with the knowledge and experience of the support team, as well as their response times and not having to deal with typical 'level 1' support. Quick ex support What more can I ask for? Our WordPress site runs flat out with Kinsta and it was very difficult to find the necessary expertise with the other companies. Also, I love the fact that I can scale a server for when there are heavy traffic spikes, so it can handle the extra load times. Fantastic."
WPMU DEV did a review of Kinsta, unbeknownst to us, which is an excellent source of unbiased opinion. Here's what Raelene mentioned about our support team.
"My experiences in contacting the support team were excellent. I received detailed and honest answers to all the questions I asked. When I asked about your hardware I was not expecting the following answer.
"We use Google Compute Engine servers, which ensures high speed and automatic scalability, which means that, instead of having constant limits of 2 to 6 CPUs per VPS, as with any other provider, we actually allow for the site container to scale to as many CPUs as necessary when there is a peak, and to load balanced clients we count an infinite number of CPUs, while our system dynamically activates more machines and scales back when the traffic has dropped. "
I tried to give you a quiz with the most common questions related to WordPress and got all the correct answers, the highest marks!
Kinsta uses a ticket support system through Intercom. It feels like being in a live chat, but you are not in the background. I got an answer in 5 minutes when I tried to talk to them at 3pm. I also tried at 5 am (woke up very early that day to write) and got an answer within 3 minutes. I could have picked two beats with slow support purely by chance, but they were still impressive! "
Raelene Morey
Managing Editor, WPMU DEV
As Raelene said, we have used Intercom since day one at Kinsta and it has worked very well for us. Nobody likes the old ticket system and many companies are now migrating to more innovative solutions like Intercom. This has given us a simple way to integrate the chat with the support tickets within our dashboard, so that customers know that we are just a click away, 24/7 365 days a year (as you can see below). Our average response time in Q3 2019 is 1 minute 19 seconds! Check out the other SaaS products we use.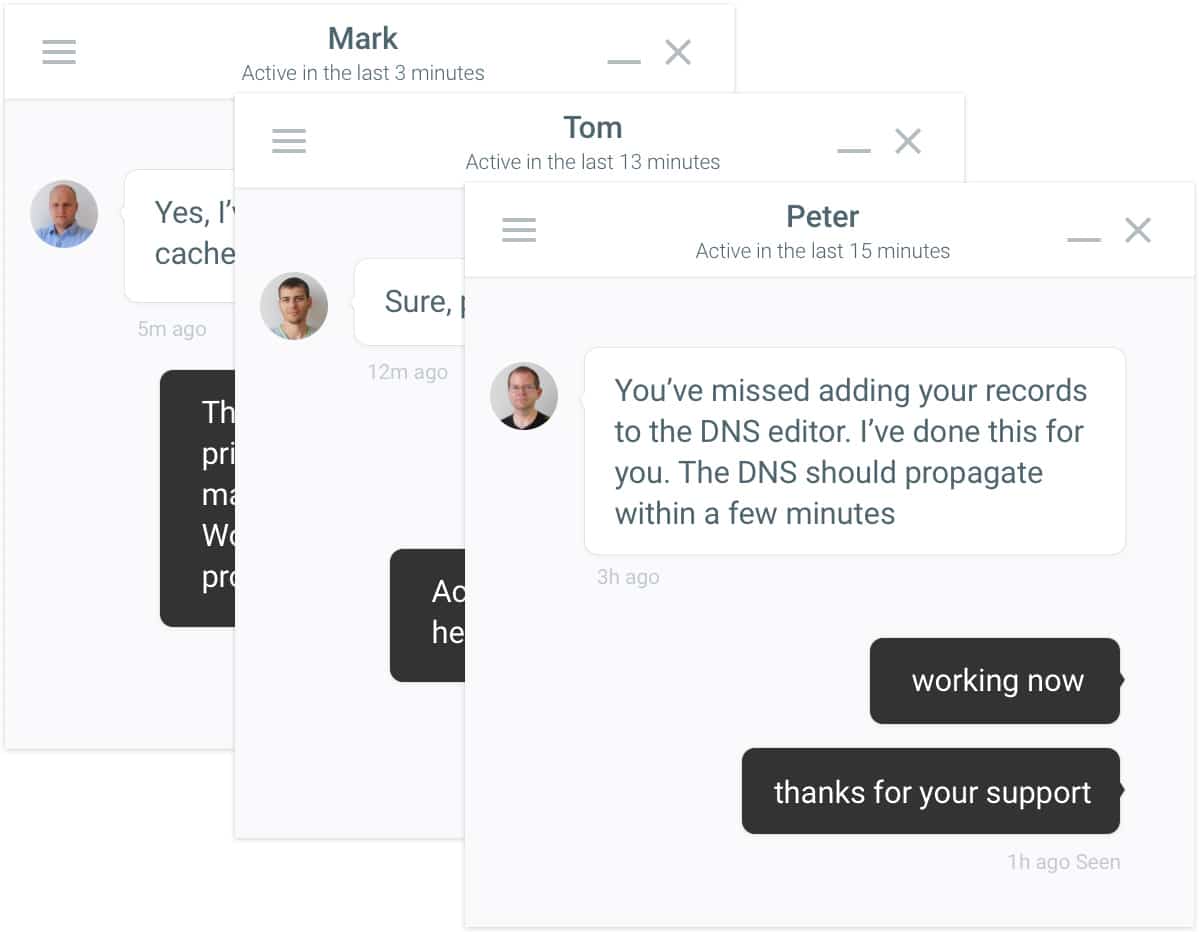 Chat support on managed WordPress hosting
So when it comes to choosing a host with an experienced and reliable support team, WordPress hosts will typically rank higher than the rest, simply because these people live and breathe WordPress on a daily basis. Kinsta also includes premium online site monitoring for all customers, through Sentry. We check the status of all your sites every 2 minutes. This translates to 720 reviews for each of your sites, every day.
This means that if your site is down, we'll be the first to know and our support team will get to work! To help you diagnose performance-related issues, we also support your own custom New Relic follow-up .
2. Optimized for High Performance
The second reason for choosing a managed WordPress hosting provider is that their environments are typically made specifically to run on WordPress.
Whether you choose the shared or DIY host route, these will usually be simple machines and you will have to spend a lot of time installing software and optimizing to get the same speeds that a managed WordPress host offers. Or in some cases, on a shared host, there will be no way to achieve the speeds you need.
We conducted a survey on Twitter, and with over 100 votes, 63% of people chose "performance / uptime" as the quality they value the most on a managed WordPress
For example, many managed WordPress hosts, including Kinsta, implement server-level cache or full page cache . Which means that the cache will be managed by us. There will be no need to find the best cache plugin because you won't need one. Only with this, you will save yourself the frustration since the cache plugins are not a very pleasant experience that one wants to spend. And in most scenarios, the server-level cache is much faster than that of a plugin.
It is crucial that you deliver as much content as possible from the cache during traffic spikes. This reduces the load on the servers and ensures that things are delivered as quickly as possible. At Kinsta you can use our Cache Analysis report to make sure all your WordPress sites are serving from the same cache.
Cache of a managed WordPress hosting
A high-performance managed WordPress host should provide you with the latest architecture and technology. This includes using the latest versions of PHP 7, MariaDB , HTTP / 2, and NGINX , which have been proven to be one of the fastest combinations for WordPress.
If your WordPress host is taking forever to release new versions of PHP, they are hurting your progress! We don't like this. In fact, Kinsta just released PHP 7.2 and 7.3 within weeks of their final release and testing. This allows customers to start testing and take advantage of the better performance of these versions.
How important is the version of PHP you are using? Our PHP benchmark report , PHP 7.3 is on average 9% faster than PHP 7.2. Who doesn't want a free 9% speed upgrade? 😉
And to take it a step further, Kinsta was the first WordPress managed hosting provider to exclusively use the Google Cloud Platform and its premium network. Kinsta was recently named one of the best by Review Signal's 2018 annual WordPress hosting performance benchmark tests . In fact, even Google recommends us .
Here is an example of how they significantly reduce load times on a client's site that we switch to Google Cloud Platform. Before the move, they were peaking within the 3-4 second range, and then they were consistent under 1 second, and below 400 ms in the United States. Simply by migrating to the Google Cloud Platform , they saw a 75% reduction in their load times!
Loading times in the Google Cloud Platform
And here's an example of what happened when someone left Kinsta to join shared hosting. Their load times went from 300ms to 14 seconds! The shared host just couldn't deal with this heavily trafficked site.
Shared hosting vs managed WordPress hosting
Here's another example from our test site running at Kinsta. As you can see, this site loads under 400ms with 100 quality performance. That's fast!
WordPress speed test with Kinsta
If we take a look at the HTTP header we can see that it is being served from the Kinsta cache at the server level and there is no active cache plugin.
HTTP header cache with Kinsta
Managed WordPress hosts set their environments very well specifically to ensure WordPress runs as fast as possible!
Do you want to know how we have increased our traffic by more than 1000%?
Join more than 20,000 people who receive our weekly newsletter with internal WordPress tips!Subscribe now
Kinsta uses LXD managed hosts and LXC orchestrated software containers for each site. What this means is that each WordPress site is housed in its own isolated container , which has all the software resources required to make it work (Linux, Nginx, PHP, MySQL). The resources are 100% private and are not shared with anyone else or even your own sites.
Kinsta architecture
We then use virtual machines located in one of the multiple Google Cloud Platform data centers around the world. Our virtual machines are configured to route traffic through the Google Cloud top-level network. Compared to Google Cloud's standard tier network, the premium tier routes most of the traffic through Google's private data center network rather than the public internet. This results in lower network latency and faster page load times for your WordPress site. According to a study by Cedexis, Google's premium tier network is almost 30% faster than the standard tier network.
Each of our GCP virtual machines has up to 96 CPUs and hundreds of gigabytes of RAM. In the available regions, we use computer-optimized virtual machines (C2) . They offer the highest performance per core that GCP offers on Compute Engine and are optimized for compute-intensive workloads. Hardware resources (RAM / CPU) are assigned to each container on the site automatically by our virtual machines as needed.
You can check out this in-depth article if you want to know how Kinsta designed the fastest WordPress hosting stack on the market.